Supervite Working Dog
Supervite Working Dog is an egg enriched, high energy and protein formula specially suited for highly active domestic dogs or large breed working dogs.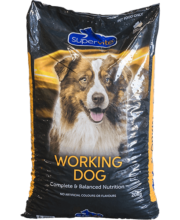 Product Description
Ideal for both highly active domestic and working dog breeds.
Complete and balanced nutrition
High protein content to help develop and replenish muscles.
Optimal fat levels give your dog the energy to go all day long.
Packed with essential vitamins, minerals and anti-oxidants to help support the immune system.
Ingredients:
Wholegrain Cereals, Real Meat & Meat By-Products derived from beef, mutton and chicken, Cereal & Vegetable By-Products, Vegetable Oil, Iodised Salt, Essential Minerals (incl: Zinc, Copper, Iron, Potassium, Manganese, Iodine, Cobalt, Selenium, Calcium, Phosphorous); Essential Vitamins (incl: A, D, K, E, B1, B2, B6, Pantothenic Acid, Niacin, Biotin, B12, Choline, Folic Acid, Vitamin C, Natural Anti-Oxidants).
Feeding Guide:
Small (5-10kg): 1/2 – 1 Cup (100-200g)
Medium (10-25kg): 1-2 Cups (200-450g)
Large (25-45kg): 2+Cups (450g +)
1 Cup (250ml) holds approximately 200g of product.
These recommendations should be varied to suit your dog's individual needs.
THIS PRODUCT DOES NOT CONTAIN RESTRICTED ANIMAL MATERIAL