Supervite Happy Dog
Supervite Happy Dog is an everyday low priced, complete and balanced extruded kibble that is specifically designed as a maintenance diet for the lazy household dog.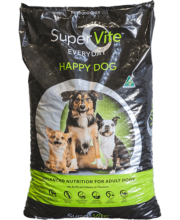 Product Description
Ingredients:
Wholegrain Cereals, Real Meat & Meat By-Products derived from beef, mutton and chicken, Cereal & Vegetable By-Products, Vegetable Oil, Iodised Salt, Essential Minerals (incl: Zinc, Copper, Iron, Potassium, Manganese, Iodine, Cobalt, Selenium, Calcium, Phosphorous); Essential Vitamins (incl: A, D, K, E, B1, B2, B6, Pantothenic Acid, Niacin, Biotin, B12, Choline, Folic Acid, Vitamin C, Natural Anti-Oxidants).
Feeding Guide:
Small Breed 1 – 2 Cups
Medium Breed 2 – 4Cups
Large Breed 4 – 6 Cups
1 Cup (250ml) holds approximately 200g of product.
These recommendations should be varied to suit your dog's individual needs.
THIS PRODUCT DOES NOT CONTAIN RESTRICTED ANIMAL MATERIAL