Pollard
Wheat pollard is a finely milled blend of bran and wheat middlings.
It is a highly palatable energy and protein rich feed that is commonly fed to most types of livestock including horses, pigs, poultry, goats, sheep and cattle.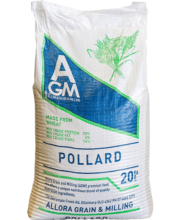 Product Description
Storage:
This product should be stored in a cool, shaded, and dry place free from vermin.
Packaging:
20kg Bag
THIS PRODUCT DOES NOT CONTAIN RESTRICTED ANIMAL MATERIAL