CQ Molasses Fortified Concentrate
A concentrate designed to be mixed with molasses to produce a balanced supplement for grazing cattle.  It contains high levels of bypass protein and urea that will encourage grazing and better utilisation of dry feeds.  It is a balanced supplement aimed at improving herd health.   It contains rumensin to improve feed efficiency.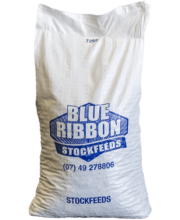 Product Description
THIS PRODUCT DOES NOT CONTAIN RESTRICTED ANIMAL MATERIAL
Warning:
MAY CONTAIN TRACES OF UREA
DO NOT FEED TO OTHER ANIMALS BESIDES SPECIFIED
DO NOT FEED TO STARVING STOCK.
BRING ANIMAL ONTO FEED GRADUALLY
WITHHOLDING PERIOD – NIL
Make sure animals have access to clean fresh water as well as a good supply of dry feed (grass or hay).
Nutritional Analysis may vary due to Season Conditions and availability of products.
The specifications given are a general indication of a typical analysis.
It is recommended that the feed be used within 3 to 6 months after manufacturing date.
Store in a Cool Dry Place.
Do not allow feed to become wet.