Guinea Pig Mix
Guinea Pig Mix can be fed to Guinea Pigs and Pet Rabbits. This feed is a formulated balanced feed to be fed with fresh vegetables.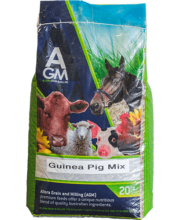 Product Description
Ingredients:
Oats, cracked corn, black sunflowers, Lucerne Chaff, Lucerne pellets, Layer mash concentrate, work horse mix, pony pellets.
THIS PRODUCT DOES NOT CONTAIN RESTRICTED ANIMAL MATERIAL
Warning:
Make sure animals have access to clean fresh water.
Nutritional Analysis may vary due to Season Conditions and availability of products.
The specifications given are a general indication of a typical analysis.
It is recommended that the feed be used within 3 to 6 months after manufacturing date.
Store in a Cool Dry Place.
Do not allow feed to become wet.