Finch Mix
Suitable for finches, canaries, budgies small seed-eating birds (beyond the hatchling stage).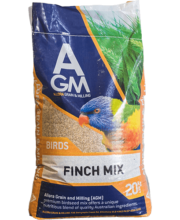 Product Description
Ingredients:
Canary seeds, panicum, red panicum, white french millet and jap millet.
THIS PRODUCT DOES NOT CONTAIN RESTRICTED ANIMAL MATERIAL
Warning:
Make sure animals have access to clean fresh water.
Nutritional Analysis may vary due to Season Conditions and availability of products.
The specifications given are a general indication of a typical analysis.
It is recommended that the feed be used within 3 to 6 months after manufacturing date.
Store in a Cool Dry Place.
Do not allow feed to become wet.