Egg Layer Mash
Egg Layer Mash is a high-quality layer feed suitable for all classes of poultry.  It is a mix of grains, protein meals, minerals and vitamins that makes a complete mash for laying hens.  It is a nutritionally balanced
full feed necessary for the animal's health and egg production.  Ensure poultry have access to clean fresh water at all times.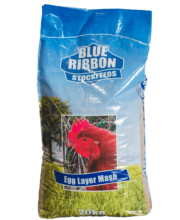 Product Description
Ingredients:
Wheat, cracked maize, sorghum, grey sunflowers, lime, molasses, soyabean oil, vitamin and mineral premix.
Feeding Guide:
Feed Egg layer mash ad lib. to point of lay and laying hens.
THIS PRODUCT DOES NOT CONTAIN RESTRICTED ANIMAL MATERIAL
Warning:
Make sure animals have access to clean fresh water.
Nutritional Analysis may vary due to Season Conditions and availability of products.
The specifications given are a general indication of a typical analysis.
It is recommended that the feed be used within 3 to 6 months after manufacturing date.
Store in a Cool Dry Place.
Do not allow feed to become wet.