Chick Starter Mix
Chick Starter Crumbles is suitable to be fed to 1 day old chicks through to the age of 6-7 weeks. The chick starter crumbles are fed as a complete feed. The chicks should have unlimited access to the feed as well as clean, cool fresh water at all times.
Chicks are prone to diseases such as coccidiosis. Medication has been included in this feed to aid in the prevention of coccidiosis.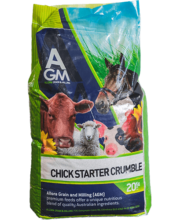 Product Description
Ingredients:
Wheat, Maize, Sorghum, Millrun, Vegetable Protein Meal, Soybean Meal, AGM Vitamin & Mineral Pre-Mix, Limestone, Salt, Vegetable Oil
THIS PRODUCT DOES NOT CONTAIN RESTRICTED ANIMAL MATERIAL
Warning:
Make sure animals have access to clean fresh water.
Nutritional Analysis may vary due to Season Conditions and availability of products.
The specifications given are a general indication of a typical analysis.
It is recommended that the feed be used within 3 to 6 months after manufacturing date.
Store in a Cool Dry Place.
Do not allow feed to become wet.