Big Head Mineral Mix
Formulated with Calcium and Phosphorus to reduce the risk of Big Head (Hyperthyroidism), Big Head Mineral Mix provides your horse with an adequate amount of available Calcium and Phosphorus.  As many imported Species of Grasses grown in Central Queensland contain Oxalates, (that lock up available Calcium), horses require a certain amount of supplemented minerals to reduce the risk of Big Head. Big Head Mineral Mix provides enough supplemented minerals and vitamins to aid in preventing the incidence of Big Head.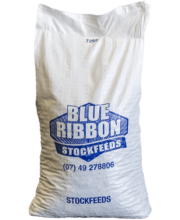 Product Description
Ingredients:
Copra Meal, Limestone, DCP, Salt, Vegetable Oil, Molasses, Minerals and Vitamins.
Feeding Guide:
Unaffected Horses:  250g/head/day
Affected Horses:  400g/head/day
Lactating and Mares in late Pregnancy: 400 to 500g/head/day
Yearling: 100 to 200g/head/day
THIS PRODUCT DOES NOT CONTAIN RESTRICTED ANIMAL MATERIAL
Warning:
Make sure animals have access to clean fresh water as well as a good supply of dry feed (grass or hay).
Nutritional Analysis may vary due to Season Conditions and availability of products.
The specifications given are a general indication of a typical analysis.
It is recommended that the feed be used within 3 to 6 months after manufacturing date.
Store in a Cool Dry Place.
Do not allow feed to become wet.