Beef Grower 18%
A balanced feed containing grain, protein meals, minerals and vitamins to aid in extra weight gain for growing and finishing younger cattle.  This high protein and energy feed enhance the animal's growth and aids in the development of their rumen papillae.  This can be fed as a full feed or a supplement feed in the paddock. To be fed in conjunction with roughage (hay or straw).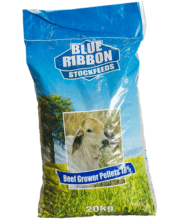 Product Description
Ingredients:
Grains, protein meals, limestone, DCP, salt, minerals and vitamins.
Feeding Guide:
Feed approximately 1% of body weight per day.  For example – A 100kg animal will
consume approx. 1kg per day.  (100 x 1% = 1kg).
Consumption may vary depending on availability of dry feeds.
The animal can be fed using self-feeders or fed their daily requirements in open troughs.
THIS PRODUCT DOES NOT CONTAIN RESTRICTED ANIMAL MATERIAL
Warning:
MAY CONTAIN TRACES OF UREA
DO NOT FEED TO OTHER ANIMALS BESIDES SPECIFIED
DO NOT FEED TO STARVING STOCK.
BRING ANIMAL ONTO FEED GRADUALLY
WITHHOLDING PERIOD – NIL
Make sure animals have access to clean fresh water as well as a good supply of dry feed (grass or hay).
Nutritional Analysis may vary due to Season Conditions and availability of products.
The specifications given are a general indication of a typical analysis.
It is recommended that the feed be used within 3 to 6 months after manufacturing date.
Store in a Cool Dry Place.
Do not allow feed to become wet.